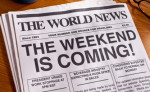 If you are someone who lives for Fridays, you are probably in the wrong job. Of course, we all have work weeks that are more challenging than others, but believe it or not, there are people who get just a little sad when the week is over. Who are these crazy whack jobs?? They are people who are keenly aware of their personal brands.
These people live and work in a way that allows them to optimize their strengths and get compensated for doing what they love. I know it's true, because I've seen it many times with own clients. These people love what they do and feel blessed to be able to spend their time being engaged in activities at which they excel.
People who understand their personal brands enjoy one of life's greatest pleasures, feeling like they make a difference. Living with a sense of true purpose and feeling like you make a significant impact on the world and people around you is one of the most gratifying feelings a person can have.
Here is a the way someone with a strong personal brand interprets TGIF.
Totally immersed in what you love.
Giving of your unique gifts to make a difference.
Indulging daily in your own creativity.
Freely expressing your authenticity through your work.
When you are able to align your job with the best of who you are, you will never look at Fridays the same way again.
So I hope you have a great weekend, but personally, I bid the week a sad little adieu. Farewell, sweet friend, we'll meet again soon.
I love hearing from you!
What do you love most about your work?
Post your answers below in the comments or find me on Facebook.

If you would like to use this article on your website or ezine, feel free! Just be sure to include the following:
Heather Poduska is a Reach certified personal brand strategist, image consultant and business coach who helps women entrepreneurs create client attractive brands, polished brand images and brand communication strategies to increase their visibility and impact in the marketplace and grow their businesses.   To
learn even more about Heather
and the
Clear Voice Branding System
click the link.
www.clearvoicebranding.com