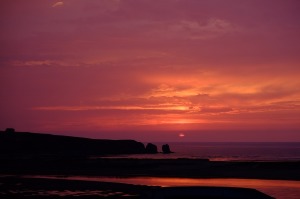 "The Summer of Desire" It sounds like a steamy romance novel and well, it is sort of… Or maybe I should say it could be. It could be YOUR sultry story.
As entrepreneurs we are hard-wired to be ambitious. It seems like every waking hour is dedicated to thinking about how to build our businesses. "How can I reach more clients? What products should I develop? What training course will help me get to the next level? Should I use Infusionsoft or Ontraport?" And the list goes on…
This may surprise you, but thinking too much can be detrimental to your success. Being overly analytical stymies creativity and leaves no room for the heart. Of course, you need strategy to stay on track and you need grit to get the work done, but all work and no romance leaves Jane a boring and mediocre fem-bot. What you need is a little intrigue. Oh, la, la!
Passion is the fuel for all great endeavors@HeatherPoduska (tweet this)
Passion takes your breath away. Passion gives your vision wings. Passion makes your feel alive.
Passion can also help you feel fully expressed when doing something you love. When you love what you do, your imagination can kicks in to high gear and you become wickedly innovative. That's how great brands are birthed and fortunes made.
How did the rose ever open its heart and give to this world all of its beauty?
It felt the encouragement of Light against its being; otherwise we all remain too frightened. -Hafiz
For many of us, the idea of leading a more passionate life sounds great, but we get stuck in our heads. We want more joy, but we don't know how to access the part of ourselves that will lead to greater fulfillment. I'll admit, even for the most enlightened pleasure-seekers, navigating a path to our molten core can be challenging in a world filled with iphones and incessant alerts. Thankfully, we have summer.
I invite you to take advantage of the heat and sun to allow your desires to percolate. Use this time to massage your deepest longings and give credence to their callings. If you do, you may find answers to questions you never even thought to ask and your business will take on new life and meaning.
Here are a few suggestions to help you ignite your flame this summer:
1. Schedule time alone. Ok, so this suggestion isn't the sexiest, but you can't just wish for inspiration. You have to commit time and space to create the right environment for magic to happen. Meditating is wonderful, but even just getting time truly alone will help you hear your voice.
2. Take long leisurely walks. I would suggest these walks not be serving double duty as work-outs. They should be easy-breezy, thought-meandering muses. Pick a pretty path to nowhere. Explore the beach, the woods or even a new city neighborhood. Just make sure you are not trying to do anything.
3. Go to a great concert. There is nothing like excellence to inspire. Talented musicians can transport the soul. Allow yourself to be swept away by the music and notice where it takes you. Are you in Italy? With a lover? Or are you cruising down the high-way on a Harley? Enjoy the ride!
4. Go to a farmers market. Explore the booths, smell the flowers, take in the vibrant colors of the produce, touch the textiles. You want to awaken your senses and imagination. Buy a few things without a preconceived recipe and make something yummy from them.
5. Take a drive in the country. Smell the fresh air. Let the green landscape hypnotize you as your mind wonders.
6. Take up running. (or swimming or paddle-boarding, whatever)Do something repetitive and physical that gets blood and oxygen pumping through your body. Tune into the rhythm of your arms and legs, of your feet hitting the pavement. Left, right, left, right… Let your mind go and see where it takes you.
7. Buy the perfect piece of fruit. Whether you love peaches, pears or watermelon, find the prettiest, plumpest one you can and savor it. Let juices drip down your chin. Feel the flavor burst in your mouth. Ah, sheer ecstasy!
8. Read a powerful novel. (preferably one that takes you far away from you own experience.) Allow yourself to go along for the emotional journey. Float down the River Nile. Climb Mount Everest. Love, lose, win, adventure. Notice what excites your most. When do you feel jealous? Jealousy is a clue to your secret desires.
9.  Journal. You don't have to write anything profound, just put pen to paper and see what comes up. If you need some cues to get you started, ask yourself, "What do I want? What makes me happy? When do I feel most relaxed? When do I feel most energized? Who am I with when I feel those things? What I am doing? What are my surroundings?" That should be enough to at least trigger the switch.
10. Travel. Any new experience to take you out of your normal element will help expand your mind. If you can go somewhere far and exotic, awesome. If not, you can still get great benefit from deviating from your routine, even if it's just an afternoon exploring the next town over.
You don't have to do all ten, just pick a couple that speak to you and give it a whirl. Not only will you have fun doing the activity, the ripple effect of allowing yourself to indulge in pleasure will help open you up to new possibilities both in life and business.
And what's hotter than following your calling and making a ton of money doing it?
Have fun!!!

Your feedback is music to my ears!
What gets you more in tune with your desires? I'd love to hear about it.
Post your answers below in the comments or find me on Facebook.

If you would like to use this article on your website or ezine, feel free! Just be sure to include the following:
Heather Poduska is a brand strategist, image consultant, business coach and opera singer who helps entrepreneurs and small business owners create client attractive brands, polished brand images and brand communication strategies to increase their visibility and impact in the marketplace and grow their businesses.