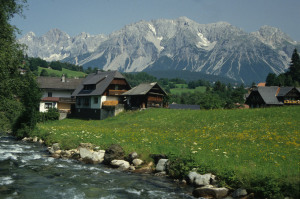 Last weekend I went to a fabulous children's production of the Sound of Music in my town. The costumes and sets were great and the kids sang their little hearts out.
As a mom and a community member I really enjoyed the show. However, as a singer with a critical ear, I also thought there were some really talented kids up on stage, in particular the girl who played Maria. Her voice was clear and had a pretty, youthful vibrato. And the ease with which she played her character really impressed me. I thought she could actually make a go of it on Broadway someday if she worked hard.
Of course, very few people ever make it on Broadway, and a lot of musical hearts have been broken trying, but there is so much to be gained from learning how to perform on stage, not the least of which is MONEY!  I'm not talking about getting paid to sing, although that is lovely, I'm talking about the ROI you get in your non-musical career from learning how to get comfortable in front an audience.
After all, what is marketing? It's performing. It's presenting yourself to the world, telling your story, trying to connect with and engage people. Unfortunately, it's an area with which a lot entrepreneurs struggle.
When I was first thinking about transitioning from singing to business, I had real self-doubt about my value. What could I possibly offer that would be helpful to entrepreneurs? I had been a singer and performer all my life and now I wanted to help people grow their business. How on earth was I going to do that???! I was going to have to start my career all over from scratch.
What I didn't realize then that I do now is what I know as a performer is one of the biggest assets anyone can have to create a lucrative business. So often entrepreneurs get caught up the "business" part of business they neglect the softer parts which is a huge mistake. You can create the best product out there, but if you can't sell it, you have zero profit.
I see it all the time, smart, talented entrepreneurs who lack the poise, sophistication and CONFIDENCE to communicate their true value. They are leaving money on the table! It so frustrating to witness. I've met 7-figure business owner who could easily be 8 or 9 figure business owners if they were just more polished.
Put yourself in the shoes of your buyer for a moment. They want to feel like they are investing in something valuable, something special. If they are going to plop down $100,000 to work with you, they have to feel like you're worth it! They want to feel led and secure their needs will be met. If you do not come across as a confident, skilled, savvy leader, they are not going to feel confident or excited about jumping into bed with you.
So think about how you are showing up. Do you sound confident when you are speaking? Do you know what to say and how to say it to sound compelling? Do you look confident? What does your body language say? How clear are you on your message? How skilled are you at delivering that message? Do you get nervous speaking in front of crowds? How about speaking one-on-one in high-end sales calls? How do you perform on camera?
All of those things matter. Often you only have one shot at a new client or big opportunity. Don't think for a second people aren't checking you out. If you want to speak on big platforms or have access to high net worth circles, you've got to show up as a player who can sing! Otherwise, you are just one click away from becoming irrelevant.
If you think you might be leaving big money on the table because your performance chops aren't up to snuff, I invite you to apply for a Complimentary Consultation with me to get you stage ready in no time by CLICKING HERE: http://bit.ly/1G9OUNW
Until next time, here's to hitting all your high-notes!
x0
Heather