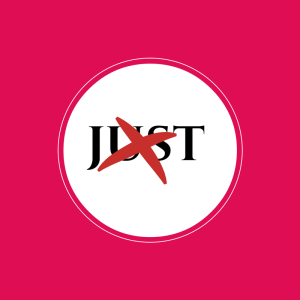 I have heard something a lot recently that has started to really bother me. It's not a phrase or even a sentence. It's one little tiny word. But this one little, tiny word has a huge impact. The word is "just."

"Just" has become my new least favorite word. I don't mean in the "It is just and right to have laws" kind of way. I mean in the "Oh, I'll just do…" It seems to be in the air a lot lately.

Here are some of the ways I've heard it:

"My sister-in-law's brother is a photographer, I'll just wait until the next time he's in town and have him take some shots for me.

"I know I need help with this, but I'm just going to see if I can do it myself first."

"Why don't we just find someone who will volunteer to do the work."

"Why don't you just hire her and see how it goes."

Ugh, ugh and double ugh!

When we say "just" we are essentially saying we know there is something better available, but we are choosing not to try to attain it. We are letting ourselves off the hook and settling.

Why, why do we do that?

Why, unless he's Ansel Adams, would you settle for your sister-in-law's brother to take your picture?Why wouldn't you determine your budget and find the best photographer you can to meet your needs? And why not put proper thought and effort into scheduling the shoot, getting enough rest, planning your wardrobe and hiring a make-up artist to boot?

Why would you try to find a volunteer to do professional work? Are you not a professional? Do you want to volunteer your time for other professionals? I think not!

Why would you try to do something on your own that you know will probably not yield the kind of results you need? Why would you spend precious time and energy struggling through something on your own when would get you a much bigger ROI with support?

One of the reasons we do these things is because we believe we cannot have what we truly want or need. There is an underlying feeling of unworthiness. Who are we to ask for and get the best quality?

When we want to barter or get volunteer help, settle for a hire that is not a good match, or resist investing in ourselves when we know we need to, these are all symptoms we do not value ourselves.

We pinch our pennies because we fear we won't be getting more dollars in the door. However, when you recognize and embrace your own worth, you start to develop trust in your ability to generate income. And as a result, you start to make decisions and take actions that honor your needs.

When you value yourself, you do not settle. You develop and stick to higher standards and life becomes more abundant. It's not always easier to to get what you want. It may taken more effort, in fact, it probably will, but it's well worth it.

So next time you catch yourself saying "I'll just…" stop and say:

"I freely ask for and receive what I want and need."

If you are ready to stop saying "just" and start saying "yes" I invite you to apply for a complimentary Brand Consultation.

Click here to apply=>http://bit.ly/1pHt7FC

Your feedback is music to my ears!

Where in your business are you settling?

Post your answers below in the comments or find me on Facebook.

If you would like to use this article on your website or ezine, feel free! Just be sure to include the following:

Heather Poduska is a brand strategist, business coach and opera singer who helps entrepreneurs and small business owners create client attractive brands, polished brand images and brand communication strategies to increase their visibility and impact in the marketplace and grow their businesses.