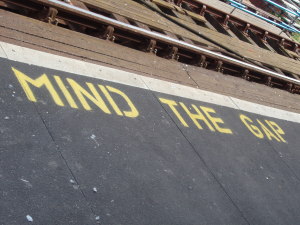 I need more clients. How am I going to make more money this year? I'm stuck. Maybe I should try calling myself a success coach instead of a brand strategist or a business coach…wait, what I really am is a healer, but what about the money part… got it, people will really like profit strategist…
Gosh, I don't know. What I do know is everyone else seems to be doing so wwwweellll. What's wrong with me??????
Have you ever had those feelings? Come on, fess up. If you are an entrepreneur, I'm sure your brain has been flooded with monkey chatter at different times. I know mine sure has. And I know it happens to beginners and veterans alike. "Look at Suzie Q over there, she just crossed the 7-figure line and I'm stuck here at $500K. What wrrroonnggg with me?"
Well, the good news is, there's nothing wrong with you. You are not broken. There is no mortal defect in you make-up. You are just fine. In fact, you are right where you need to be.
"Yeah, right. I'm stuck and this sucks. Don't tell me I'm where I need to be."
Sorry, but it's true. If you are stuck and feel shitty, that's great! It means things are working as they should. Life, the universe, your higher-self whatever you call it is telling you it's time for a change. If you felt fantastic all the time, you would never GROW.
Let me repeat that: g-r-O-W-WW-WWW!
Think back to when you were a young teenager. Things started to feel very uncomfortable. You'd get cranky. Your clothes didn't fit the same way any more. Your face would break out and your body started erupting in all kinds of crazy ways and places. Let's face it, it's not the prettiest time of life. But going through puberty did not mean there was something wrong, it was exactly what was suppose to happen to prepare you for the next phase of development.
It's so easy to immediately point the finger back at ourselves. We are less-than, not enough. Not smart enough, fast enough, connected enough, thin enough, pretty enough. We're not with the right coach or in the right networking circles. We're not writing the right kinds of blog articles or creating the right kinds of products.
Chill out. Just give yourself a break.
What if instead of beating yourself up for not being where you want to be yet, you decided to be kind to yourself? What if you started to honor yourself for being tuned-in enough to know you want something different? What would that look like?
Maybe you would sleep more so you have more energy or find a new mentor to get a fresh outlook. Maybe you would go to a florist to soak up the beautiful fragrances to feed your inner artist. Or just maybe you would just allow yourself to cry into your pillow, grab a bowl of ice-cream and watch Keeping up with the Kardashians. Who cares! You would be listening to your inner voice to see what needs are surfacing. 
The point is to mind the gap from where you are now to where you think you want to be with love. Self-chiding only brings constriction. What you want to do is mine more of yourself. Bring forward more of your gifts. Hone and refine your skills. Why would the genius of your inner child want to come out and play if you are screaming at her all the time?
So here's your mission should you choose to accept it:
1. Bless the gap. Say a little invocation for feeling so crappy. It's a sign you are ready for an up-level.
2. Look for the misalignment. What part of you feels like it's not being expressed at the highest level to support your goals?
3. Make an invitation to play. Create a fun and safe environment to allow for your creativity to surface. Criticism squishes creativity which is where all the answers lie.
4. Get what you need. If you are stuck it's only because there is something you don't know or don't know how to do yet. You can complain about it and stay a victim, or you can advocate for your dreams.
Everything you need is within your reach. You just need to open your hand and accept it.
Thus endeth the lesson:)
xo

Your feedback is music to my ears!
How do you deal with your inner critic? Would love to hear your strategies!
Post your answers below in the comments or find me on Facebook.

If you would like to use this article on your website or ezine, feel free! Just be sure to include the following:
Heather Poduska is a brand strategist, business coach and opera singer who helps entrepreneurs and small business owners create client attractive brands, polished brand images and brand communication strategies to increase their visibility and impact in the marketplace and grow their businesses.