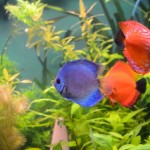 Many of you may already be familiar with the tv program called "Tanked," but my first exposure to the show was on vacation this summer. Obviously, the kids had control of the remote in the hotel room! At first, I thought it was just another inane reality show, but as I watched I came to realize this was a great study of effective branding! The show is about two guys who build custom-made fish tanks. Yes, that's it. Stay with me now. I'm sure you think this is a little fishy, but there is a lot to learn here.
The two stars of the show, Wayde King and Brett Raymer who are also brother-in-laws, don't build just any fish tanks. They build outrageous, one-of-a-kind, highly customized works of art. The tanks they build are commissioned by clients who have very specific and extremely personal visions for what they want. On the show we watched, Brett and Wayde built a fish tank into a working pinball machine! Not only do the fish tanks need to look interesting, but they also need to actually function from an engineering point of view. To take it even further, Brett & Wayde take great pains to select fish and sea life to reflect the theme of the artistic vision of each project. It's true branding brilliance.
If you want to dive in and brand like the brothers, here are a few tid-bits to dangle off your hook:
1. Create an interesting niche. Did you wake up today thinking "Hey, I'm going to build high-end, exotic fish tanks for a living?" Probably not, but Brett & Wayde did and they are doing very well at it. They have a highly defined niche. If you are in the market for a unique fish tank, whose name do you think will pop up first on the radar? What unique niche can you carve out for your business? If you already have a niche, can you think of an even tighter sub-niche within it? If you currently serve business women, perhaps you can narrow your focus to women in financial services or women artists. The more specialized you become, the more recognizable your brand will be as well. Of course, keep in mind, there must be a big enough market to sustain your business.
2. Be very, very good at what you do. If Brett & Wayde were not superb craftsmen, we would not be hearing about them on tv. They build outstanding products. How about you? Is what you offer exceptional, or could your client base find someone who does what you do just around the corner? Is there some skill you need to learn or brush up on? How can you improve what you already offer to make it superior to the competition?
3. Be creative. One of the tanks Brett and Wayde built was inside a phone booth! When was the last time you thought out of the box (literally) with your products or services? How can you present what you do in a new, unusual or thought-provoking way? Sure, you can do the same old, same old, but why not give people something to talk about?
4. Throw in an element of surprise. Tanked is not the first reality show that capitalizes on the "wow" factor of the client's reaction upon seeing the final reveal. No matter how many times we see it, we still get sucked into the moment. We know it's coming, we know they are going to be surprised and usually thrilled. Yet we sit on the edge of our seat to watch it every time. Why? Because it's fun, it's interesting, and it's SATISFYING. What can you do to up the ante for your client? What surprises can you include in their experiences with you? Perhaps you offer an unexpected special or maybe you check in on them "just because." Whatever it is, the element of a good surprise can do loads to create raving fans for your brand.
5. Make them feel a part of the family. As I mentioned, Brett & Wayne are brother-in-laws, however, that is not the only familial relationship in the business. Sister-in-laws and Brett's father, also known as "the General" also play roles on the show. This family dynamic makes for interesting viewing. You feel as though you are getting to know the whole clan. You may not want to broadcast your own family affairs to the whole world, but the more people feel like they know you, the more invested they become in your brand. There are always ways to draw back the curtain a bit to share aspects of yourself with your audience in appropriate ways. People love knowing the face behind the brand. It is the first step in developing the all-important, know-like-trust trifecta.
Since returning home I have read a lot of reviews about "Tanked." Some people love it and others think it is not a proper representation of how to care for fish. Whatever your point of view, however, there is no denying the show has drawn a lot of attention and has created a lot of strong opinions. This is exactly what a good brand should do. You cannot and should not try to be all things to all people. If not everyone loves your brand, just remember, there are plenty of fish in the sea!
 I love hearing from you!
What unique ways do you engage with your audience?
How do you let people see behind the curtain of your brand?
Post your comments below.
If you would like to use this article on your website or ezine, feel free! Just be sure to include the following:
Heather Poduska is a Reach certified personal brand strategist, image consultant and business coach who helps women entrepreneurs create client attractive brands, polished brand images and brand communication strategies to increase their visibility and impact in the marketplace and grow their businesses.   To 
learn even more about Heather 
and the 
Clear Voice Branding System
click the link. 
www.clearvoicebranding.com
.