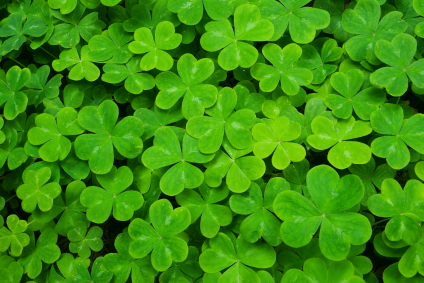 Every brand has a unique personality and one of the best ways to express that personality is through the use of color. Every color also has its own personality. Have you ever noticed how differently you feel when looking at various colors? Dark colors can sometimes bring us down just as vibrant colors can infuse us with energy.
There has been a lot of research into the psychology of color and how it impacts human beings. Understanding how you want your brand to impact your audience is essential to choosing the right colors for your business and marketing materials.  In honor of St. Paddy's Day, here are the common psychological associations with the color green.
GREEN
growth
nature
rebirth
optimism
spring
fertility
relaxation
youth
healing
luck
environment
MONEY!
Do you recognize and of your brand attributes in that list? If your business deals with health and healing, nature, finances or nature, green could be an excellent color for you.
There are many other elements to consider when choosing brand colors, but starting with how you want to express yourself and how you want to impact your audience is a really good place to start.
If you are unsure of the best colors for your brand and business, I can help. Contact me here to set up a FREE Brand Strategy Call and we'll paint the town red, or purple, or yellow… oh, you get the point!