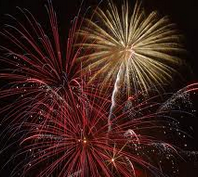 Happy 4th of July! I'm sure many of you are heading off tonight to watch a fireworks display. I love fireworks. It always reminds me of being home in Wisconsin with my family. We would watch from the roof of our car and try to guess what would come next, a giant plume or a quirky swirl.  We were always delighted and amazed, unless of course, it was a dud.
The dreaded dud was a huge let down. You would watch the sky waiting for the next big thrill, only to be accosted by a deafening boom. Not only was it disappointing, it also scared the bejeebees out of me as a kid. It took a while before I could watch the rest of the show because I was worried the same thing would happen again. My fireworks trust was eroded.
Not a huge deal on the 4th of July, in fact, it's bound to happen at some point. However, being a dud with your brand is a big deal. The last thing you want to do is disappoint your audience! And you certainly don't want to do anything to cause them to lose trust in you. Of course, no one is perfect and mistakes are a natural part of any endeavor, but your brand show better have more thrills than spills if you want to be successful.
Here are a few tips to light up the sky with your brand:
1. Create a design map. Making fireworks is an art. In order to create unique colors, shapes and even sounds, the engineer has to know how to mix different chemicals and configure different structures to get the desired effect.  Have you thought about how you want your brand to look? What color should it be? What shape will it have? Does it have any movement or even a smell?
2. Understand the effect your want your brand to have on your audience. Some fireworks swirl and dance, others burst and pop. Think about the reaction the audience has. Sometimes they "ooohh and ahhh" and sometimes they gasps. They might even shout and whistle. How do you want your brand audience to react? Are you going to be an "in their face" brand or a brand that starts small, but sparkles and shimmers? There is no wrong answer here, but you need to be clear.
3. Plan an arc to your show. As amazing as the big boys are, if you have an entire show of giant explosions it will get boring after a while. The same is true for your brand. You can't constantly hit your audience over the head with your big guns, you need to take them on a journey. How can you add texture to your brand experience?
4. Plan a BIG BRAND finale! How you end is the last thing your audience will remember about you. You could have the most spectacular main act, but if your finale is weak your whole show will be devalued. How can you WOW your audience with brand finale? What is your follow-up move? Do you offer special bonuses? How about unique thank yous? Whatever you choose for your BRAND FINALE, make sure it leaves a BIG impression!
Remember, a grand fireworks display does not just happen and neither does a spectacular brand show. It takes careful thought and preparation to create an exciting and memorable experience for your audience. Unfortunately, duds do happen even to good brands, but if you fill the skies with enough glitter your brand will be remembered as a real firecracker!
This week's challenge:
What can you do right now to add more flare to your brand?
Post your answers below in the comments or find me on Facebook.

If you would like to use this article on your website or ezine, feel free! Just be sure to include the following:
Heather Poduska is a brand strategist, business coach and opera singer who helps entrepreneurs and small business owners create client attractive brands, polished brand images and brand communication strategies to increase their visibility and impact in the marketplace and grow their businesses.