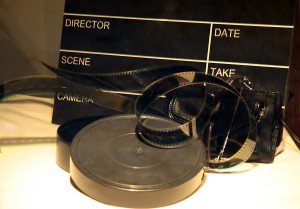 It's awards season and this week marks the Big Kahuna of all awards for Hollywood, the Oscars. It's the night that marks the pinnacle of success for actors and actresses, directors, editors and all those associated with the movie-making business. Actors dream their whole lives of winning this award.
I love watching the awards show. Who doesn't love seeing all those beautiful people dressed to the nines? It's total eye candy. But in all honesty it's not my favorite part of the show. I actually love the acceptance speeches. I love seeing the pure joy of the actors, their excitement and nerves. I find it fascinating how flustered they get, these pros who live their lives in front of the camera, performing, suddenly becoming all a flutter when their name is called.
For all the coolness of Hollywood, this is a moment where the humanity of the stars shine through. They seem to be truly effected by the experience. It means something to them. I believe because it is a moment of great validation. They are being recognized for their superior talent.
We tend to think of stars and starlets as being famous only because they are beautiful. Don't get me wrong, beauty plays a huge part of getting a shot at an acting career. However, people who win the Academy Award are generally excellent artisans and have given stellar performances.
Believe it or not many of the same ingredients that go into winning an Oscar are the same needed to create a successful brand. Here are few tips from the winner's circle:
1. Network like a fiend. This is probably the most important step of all. You have to get your name and face out in front of people who can influence your career. Entrepreneurs tend to think of networking as a way to meet potential clients, but those are not the only people with whom you should be trying to connect. There are also mentors, jv partners, interesting resources and also people to whom you may be a resource. The main reason for networking is to develop relationships so people know you and you know them.
2. Find material to showcase your strengths. There are plenty of good actors out there who do not win Academy Awards. Sometimes it's just a matter of finding the right material at the right time. As entrepreneurs we often get distracted by aspects of our businesses that really do not yield great results. We think we should do certain things, but in the end, they are not profit generating, nor do they highlight our true expertise. Choose wisely.
 3. Throw yourself completely into your role. The best performances are from actors who are able to completely embody a character. You forget completely they are a star and instead experience them solely as the role they are playing. Successful brands are not half-hearted either. They are in one hundred percent. Do not dip your toe into your brand. Dive in deep and you will gain the respect and adoration of your audience.
4. Build a support team. Ever notice how many people get thanked in an acceptance speech? There's the agent, the manager, the cast, the crew and of course, the mom/dad/husband wife etc. Success is not a solo affair. It takes a team. Make sure you have your support systems in place. Do have a VA, a bookkeeper, a coach, um…. a brand strategist:)
5. Be excellent. Hey, not everyone is talented enough to win…yet. You may not actually have all the chops you need yet to succeed. That's ok, you just need to keep learning, keep growing and keep improving. Pay attention to the detail. Demand quality of yourself. Be a master crafts-person and eventually you will become so good, your audience will line up to work with you.
6. Hang tough. We like to think of stars as over-night sensations. Rarely is that the case. More often an actor has been working, working, working. They have been building their resume with smaller roles, laying the ground work for the bigger gigs. It's just we don't notice them until they finally get their big break. We don't necessarily see all the steps that led up to that point. As entrepreneurs, we want success and we want it yesterday. It's so tempting to look at the big guns and think we should be there too, but they paid their dues and so must we.
For all the glamour of Hollywood, there really is a lot of hard work that goes on behind the scenes. If you are willing to put in the time and continually improve in your business, you may never win an Academy Award, but you will at least have a shot at the limelight.
I love to hear your voice!
What one quality do you think is the key to success? How can you get better at your craft?
Post your answers below in the comments or find me on Facebook.

If you would like to use this article on your website or ezine, feel free! Just be sure to include the following:
Heather Poduska is a brand strategist, business coach and opera singer who helps entrepreneurs and small business owners create client attractive brands, polished brand images and brand communication strategies to increase their visibility and impact in the marketplace and grow their businesses.