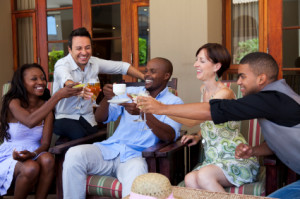 For many entrepreneurs, summer can be a slow time. Many of our clients and potential customers travel during the warmer months which makes it harder to generate business. It's easy to get discouraged when the numbers aren't coming in, but there are some things you can do to keep your brand sizzling this summer. 
Yes, it's true, a lot of traditional networking opportunities vanish in the warmer months. Many clubs and organizations shut down completely, but that doesn't' mean there are no opportunities to make connections. You just have to go where other people normally go in the summer. Now I'm not about to encourage you to pull up your beach blanket and try to hard sell your neighbor, however if you are warm and authentic in your approach, you can expand your brand foot print in some unexpected ways. 
Here are a few tips to maximize your networking potential this summer:
1. Be prepared with a casual, natural elevator pitch. We all have our hard-core elevator pitch for traditional networking and business events, but in most cases, that will not be appropriate for the kinds of connections you'll make over the summer. However, "winging it" won't do either. Take your normal pitch and edit it into "conversation speak" so you are prepared and have a natural way of talking about your business at informal events.
2. Be social! Summer is a great time to connect with friends and neighbors. Accept those invitations to back-yard bbq's and parties. Or better yet, throw one! Take advantage of these slower months to attend more social gatherings. You will get a chance to get to know new people in a relaxed setting. Successful businesses are built on good relationships with people, not just business people, all people. So get out there and mingle!
3. Let your family know what you are up to. Summer is also a time when many families reconnect. You may have an annual family union or perhaps you make an annual cross-country drive to visit your great aunt Betty. Often times our families are the last ones to know about what we really do. This year, change that. Let them in on what you do and with whom you work. Don't be afraid to ask them if they know anyone who might be a potential client. Most of our families want us to succeed and are happy to help out.
4. Meet some old friends for drinks. Reconnect with your buddies and let them know what you've been up to lately. Show interest and support for what they are doing and ask about their lives and businesses. They will naturally want to know about you as well. Don't be shy about asking if they know any good resources. And be willing to do the same in return.
5. Follow-up in a friendly way. Be sure to touch back on any conversations you had with your friends, family and new acquaintances.  Remind them of how you met, what you talked about and why you are following up now. Since you didn't make this contact at a BNI or your local rotary club, your follow-up shouldn't be too formal. Make it light and friendly, just like a breezy summer afternoon…
If you follow these steps, not only can you potentially expand your business network this summer, you can also make some new friends and strengthen your relationships with those you already care about. So get out from behind that desk, grab your party hat and start doing business!
I love to hear your voice!
What is your favorite way to connect with people over the summer?
Post your answers below in the comments or find me on Facebook.

If you would like to use this article on your website or ezine, feel free! Just be sure to include the following:
Heather Poduska is a brand strategist, business coach and opera singer who helps entrepreneurs and small business owners create client attractive brands, polished brand images and brand communication strategies to increase their visibility and impact in the marketplace and grow their businesses.