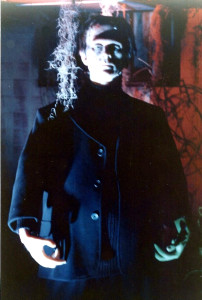 Halloween is a scary holiday, but what's even more spine-chilling is making big branding mistakes that could cost you an arm and a leg. Here are a few of the most gruesome offenses you should try to avoid.
Your images are lifeless. A picture can speak a thousand words. Let's just hope they are good words! Throw those old, boring photos to the hounds. Make sure your website and marketing materials are spattered with the best version of your visage. Get a professional photographer, make-up artist and stylist to help you achieve a look so good it's supernatural.
There's no soul in your message. People buy from people they know like and trust so make sure your message is not a dry, apparition. You need to infuse your message with the life and blood of your personal story. When you become a real and empathetic character in their minds, your audience will thirst for more!
You are just another run-of-the-mill witch. Black hat, check. Black shoes, check. Wart on nose, check. Creative, interesting costume? NO CHECK! How on earth are you going to stand out among the ghosts and ghouls if your costume looks like everyone else's. You need some originality! How about a cute, sassy witch with a hot pink broom stick? Now that will get their eye balls popping!
You are afraid to leave your house. I know it can seem spooky out there, but if you stay home, you'll miss all the fun! If you want to get the treats, you are going to have to put on your cloak and hit the road.
Finally, you've got to ask for what you want! You can't just stand there and look wicked, you've got to give your pitch before someone will fill your bucket.
I love to hear your voice!
What is your biggest branding fear?
Post your answers below in the comments or find me on Facebook.

If you would like to use this article on your website or ezine, feel free! Just be sure to include the following:
Heather Poduska is a brand strategist, business coach and opera singer who helps entrepreneurs and small business owners create client attractive brands, polished brand images and brand communication strategies to increase their visibility and impact in the marketplace and grow their businesses.