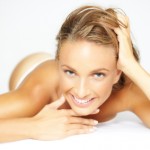 Have you ever found yourself paging through one of those celebrity fashion magazines feeling a little cynical? That little green monster creeps in as you compare yourself to all those gorgeous ingenues. You comfort yourself by making excuses as to why they are there looking so beautiful and you are still living the life of a mere mortal woman. How hard is it to look beautiful when you're wearing a glitzy dress or ball gown? After all, it's one of the most flattering things a woman can wear. It's all smoke and mirrors you think. Peel away the glitz and glamour and underneath it all they are probably not that special. Or at least you hope.
There you'd be wrong. Nine times out of ten if you took off all their clothes those celebrities would still look phenomenal. You know why? Because it's their J-O-B to look flawless top to bottom, night and day, clothed or otherwise. Their brand is to be beautiful and glamorous. Celebrities work very hard to maintain appearances. Silky smooth hair and abs of steel don't just happen. It takes consistent effort and planning to create a successful celebrity brand.
You may not be a celebrity (yet!), but if you want to create a personal brand that turns heads and has a wowie-zowie impact, you need to look good naked. Before you start throwing tomatoes at your computer screen, let me explain. To be truly effective, your brand image needs to have depth and consistency. You cannot expect stellar results if you are great some of the time. You will not create a polished, professional brand name if some of your marketing materials rock. You cannot rise to the top of  your industry if you write your blog, speak, network, or tap dance on stage some of the time. You can't just throw a pashmina over the wrinkled dress of your brand and expect the paparazzi to fight over you. You must be consistent.
If thinking about this kind of effort makes you feel overwhelmed, here is a tip. Try doing everything you do with INTENTION. This is where the depth comes in. It is not necessarily how much you produce, it is the quality of what you produce that matters more. It is far better to do few things very, very well than to spread out your efforts and dilute the results. When you set your intention to excellence, not only does it focus your attention, it also makes the experience of each exposure to your brand more rich and vivid. 
Go ahead and glam up your brand. Throw in the bells and whistles. Just be sure when the party's over and you take off the make-up, the bare face of your brand looks just as good naked.
I LOVE feedback! If you have any thoughts or questions shoot me a line below in the comments or find me on Facebook.

If you would like to use this article on your website or ezine, feel free! Just be sure to include the following:
Heather Poduska is a Reach certified personal brand strategist, image consultant and business coach who helps women entrepreneurs create client attractive brands, polished brand images and brand communication strategies to increase their visibility and impact in the marketplace and grow their businesses.   To 
learn even more about Heather 
and the 
Clear Voice Branding System
click the link. 
www.clearvoicebranding.com