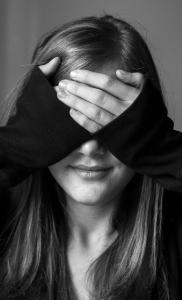 I had a very interesting experience recently. I was on the treadmill, my altar of choice, getting into my zen mode when "Shazammmm!" I had an awesome idea. I was going to create a truth-or-dare type business game, a no-lose, profitable venture for anyone who was willing to play. But I was struggling with how to word the copy. How exactly do you sound both high-end, dead-serious and playful all at the same time? Fast forward to the shower…
Kapow! Inspiration strikes again.
I will make it like a carnival game, but with a $100,000 proposition. Yes, yes, this will be fun! Hmmm, can I really do this? Am I sure this is the right tone? Better test it out… "Hey, guys, what do you think of this? Too bold?"
The feedback I got was crazy divided. One person said I was hiding behind a clown mask, another said, "Right on! This is awesome!" Ok, now what? Who else can I ask…
"Hey, Hubby, what do you think of this copy?" (Just the position in which most husbands like to be put.) "Oh, I'm wonderful you say? Phew… thanks Honey."
I wasn't really looking for feedback, I was looking for validation. "Is this ok? Am I ok? Will people like me?"
Have you ever had a flash of inspiration, something that totally fired you up? You couldn't wait to get home to tell someone. But something happens on the way, doesn't it? Doubt creeps in and you get cold feet. 
Nine times out of ten, your first impulse is the right one. It's right because it's your unfiltered power voice talking to you. That's what the bolt of electricity is you feel surging through your body when a wild idea pops in your head and that is where your profits come from.
When you edit yourself, you water down your authenticity. You play nice in the sandbox in hopes other kids will come and sit next to you, or maybe even in hopes that they won't beat you up. Either way what usually happens is you sit there alone, waiting to get noticed.
Letting your true voice out can be incredibly scary, I'll admit it. I was really nervous about my game copy, but what I realized was, I am done keeping quiet. This bird is out of the cage and she's gonna sing baby!
I ended up posting something that was pretty bold and very tongue in cheek. I got some takers, but honestly, I may have had more people respond if I had toned it down, but I don't care. It was so incredibly liberating to breathe more of myself into my brand voice that it felt like a massive victory.
As you continue to express yourself more and more, you will lose favor with some people. Wish them well on their journey of self-discovery, but it's totally cool and actually preferable. Those that stay will get more value and enjoyment from being a part of the community and you will have more fun serving them as you freely express yourself more and more.
I've said it before, branding is like dating. You have to find the right match. If you pretend to be something you are not to fill your funnel, you will start resenting your business. On the other hand, if you let your true voice come out, not only will you develop an awesome tribe who loves you, you will most definitely make more money. Now that's something to sing about:)
If you are having trouble finding your power voice, I invite you at apply for a Complimentary Consultation with me, by clicking here: http://bit.ly/1G9OUNW
Until next time, here's to hitting you high notes!
xo

P.S. If you'd like to know more about the game, shoot me an email at heather@clearvoicebranding.com. I could be worth $100,000 to you:)