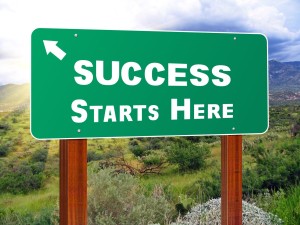 I heard a really interesting interview recently with Oprah and the comedian, Kevin Hart, where they were talking about success. Now clearly both Oprah and Kevin Hart are already successful, to the tune of a billion dollars, thank you very much. Oprah asked Kevin if he felt successful and he said, "Yes, of course, but there's always something more." More? More than $25 Million? More than $1 Billion??
Actually, yes. Kevin and Oprah both agreed each one of us is always aiming for the next highest expression of ourselves. Wow, that is awesome. THAT is creativity. THAT is BRANDING!
It doesn't matter if you are making $100,000 or $10,000,000. We are all human beings. We are all reaching for the next thing. The problem is many of us don't know what that next thing is. And the reason we don't know is because we are looking for external  answers.
The answer to our greatest success comes from knowing ourselves. When we understand what we value, what our passions are, what our vision for the world is, then the pieces start to fall in place. There is no guessing. Instead, there is an inner compass that guides our path, that makes our decisions seamless because they are in alignment with who we are at the core.
When you are making millions of dollars, you are past the point of worrying about whether or not you can put food on the table. You are financially successful, but does that mean you call it a day? I don't think so. If financial success were enough for total fulfillment, we would not be hearing from the likes of Richard Branson or Mark Zuckerberg anymore. Beyonce and Jay-Z would just pack up their yacht and sail off into the sunset.
As human beings there is an inner drive for self-actualization, to become the highest version of ourselves. There is a need to be seen and heard and to feel relevant. And most importantly, I believe there is a need to express ourselves and to have that expression create connection.
Let's play a game, shall we. Pretend you are the richest person in the world. You can buy anything you want, go anywhere you want, do anything you want. What would you buy? Where would you go? What would you do? This is a fun game, isn't it? Now ask yourself "Why?" Why would you buy the Ferrari? Why would you go to Africa? Why would you create a charitable foundation?
For the way it would make you FEEL.
If you went on safari, you'd be on an adventure, you'd be learning, you'd see beautiful animals and landscape. You would experience awe and beauty. It would feed your soul. If you bought a Ferrari, you'd gain status and recognition, you'd be expressing your wild and fast nature, you'd' FEEL sexy and powerful. If you started a charity, you'd be giving of yourself, connecting to a cause you care about deeply, you'd gain a feeling of gratitude and generosity.
Do you see a pattern here? It's' about feeling, connection, passion, expression. It's not just about the money. It's about being wildly ALIVE. Of course, the money is vital to the equation. You need the money to actualize, but understanding what the drive is behind the desire for money is critical to both success and happiness.
We tend to think the next level of financial success is going to make us fulfilled, but that is back-asswards. When we understand what fulfills us, we make better decisions about how to make our money. We are happier, more open, we connect more freely and we have more to give. Our creativity skyrockets and we become more innovative and energized. Who doesn't want more of that?!
If you are not feeling those things in your business now, there is room for improvement. The more you can connect deeply with who you are and how you want to show up in the world, the easier it will be to know your next move.
If you are yearning for a more meaningful version of success, I invite you to apply for a Complimentary Consultation with me here by CLICKING HERE=> http://bit.ly/1pHt7FC