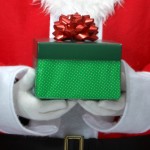 Whether you celebrate Christmas or not, you've got to admit Santa Claus is an excellent marketer. His brand recognition makes Oprah Winfrey look like a b-lister and his coffers are so full he makes Bill Gates look like a pauper. Santa generated over $400 BILLION in sales last year alone! How does the Big Man do it?
Santa may be magical, but his success is actually the result following these good branding rules…
1. Have a clear message. Santa's message is clear. If you are good, you get rewarded. If you're bad, you get a dirty lump of coal.
2. Keep your message consistent. Let's see, how long has Santa been in business? I don't recall that message ever changing.
3. Use color in your marketing materials. Love it or hate it, Christmas is a bounty of bold colors. Vibrant lights, tinsel, wrapping paper and bows create holiday hyper-drive.
4. Stay consistent with your brand colors. Even though other colors have been introduced over time, red and green still rule supreme as brand representatives for Christmas.
5. Listen to what your customers want. Santa reads each child's letter carefully to know exactly what to give them to bring the most joy and satisfaction on Christmas morning. Are you listening carefully to your customers?
6. Be on time with your delivery. If Santa Claus failed to delivery on December 25th, it would severely tarnish his brand cache. What do you think tardiness will do to your brand?
7. Assemble a good team. Santa does not make every toy himself and neither should you. Santa has an army of elves to do everything from cleaning the shop to making sure the manufacturing line is in working order.
8. Create beautiful packaging for your products. No brown bag wrapping for Santa. His gifts come with colorful paper and beautiful ribbon. Getting the wrapped package is half the fun of getting a gift. Admit it, aren't you just a little disappointed by the gift bag?
9. Find a signature look. What other man parades around in a red velvet suit? Ok, maybe David Arquette, but there you go, it's a statement. When a fat man wearing a red suit walks in the room, you turn around and take notice.
10. Give your clients a platform to show their appreciation.  On Christmas Eve, children love to leave out notes & goodies for Santa as a token of their appreciation for a job well done. It makes them feel good to communicate with the Big Guy. Our version of this is social media. Give your clients a chance to engage. Ah, if only Facebook could deliver milk and cookies.
Combine these ten tips and you too can have a magical brand. The number one thing to keep in mind is how you want your customers to feel when they think of your brand. I think Santa got this one covered. Do you?
Happy Holidays Everyone!
I love hearing from you, so make a joyful noise!
Do you have a signature look? If so, please post a picture on Facebook. I'd love to see it!
Post your answers below in the comments or find me on Facebook.

If you would like to use this article on your website or ezine, feel free! Just be sure to include the following:
Heather Poduska is a Reach certified personal brand strategist, image consultant and business coach who helps women entrepreneurs create client attractive brands, polished brand images and brand communication strategies to increase their visibility and impact in the marketplace and grow their businesses.   To 
learn even more about Heather 
and the 
Clear Voice Branding System
click the link. 
www.clearvoicebranding.com